why capture birth photos?
Two of life's biggest moments include a wedding and the birth of a child. For many women, birth is a rite of passage for those of us lucky enough to conceive a child.
No matter which way you birth your baby – unmedicated, at home, with an epidural, c-section, to plan or not to plan – it is you and your baby's story entirely and will be talked of over and over for many years.
I capture everything that happens from the moment I enter the room. The way your partner supports you in labour; who is there; the moment baby is born; the first time you and your baby embrace; the first time your baby suckles; and so on.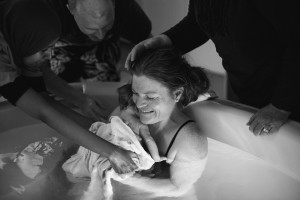 Some people expect birth photos must be very graphic in nature. They don't have to be. Occasionally they are. My mission is to tell the story of the events and emotion that unfold during labour and after birth in a way that you will be able to cherish and relive. Personally, I did not have a photographer capture the births of either of my children and it is a deep regret of mine. My memory of the birth of my son became hazy even after just a year.
One of my clients shared recently:
If our house burns down, my birth photo album will be one of the precious things I grab as we run out the door. I look at it all the time.
Please call me 0407574369 or email me cathy@cathyronaldsphotography.com